Locker Room Talk: ESPN MLB Broadcaster Jessica Mendoza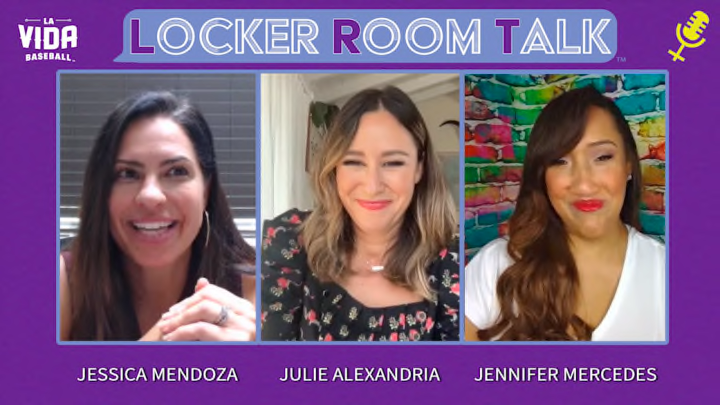 ---

ESPN MLB broadcaster and analyst, 2-time Olympic gold medalist and Softball Hall of Famer, Jessica Mendoza, talks about her life and career; from winning a gold medal in the Olympics to making history as the first female World Series analyst on ESPN, to finding inspiration in the sisterhood of other female athletes and journalists. 
Fresh off of making history with Locker Room Talk alumnus Melanie Newman, as the first ESPN all-female telecast for an MLB game, Mendoza understands the importance of lifting up and the power in collaborating with other women in the sports industry. After recently wrapping up her broadcasting for the Tokyo Olympics, she also reflects on her own gold medal moment, something she considers to be her greatest accomplishment.   
Locker Room Talk hosts Jennifer Mercedes and Julie Alexandria also ask Mendoza what qualities she admires in other professional athletes. Mendoza explains what trailblazing-women such as Serena Williams and Naomi Osaka mean to all of us when it comes to strength, confidence, and mental health. The three also discuss the unfortunate fact that women in sports journalism are no strangers to internet trolls. Mendoza talks about how her relationship with social media had to change for her own well-being, once she made it to the top. She talks about navigating through the negative comments and what she really wishes she could say to the haters. All this and more, on Locker Room Talk.

---
---

Locker Room Talk is a weekly show highlighting the achievements of women and Latinas in sports. Hosted by Julie Alexandria and Jennifer Mercedes, two Latinas with more than 20 years of sports industry reporting experience, the show celebrates women in all aspects of the sports world by recognizing their contributions and the barriers they have overcome in their journeys. New episodes of Locker Room Talk debut every Wednesday on La Vida Baseball social channels.