Quiénes Somos, About Us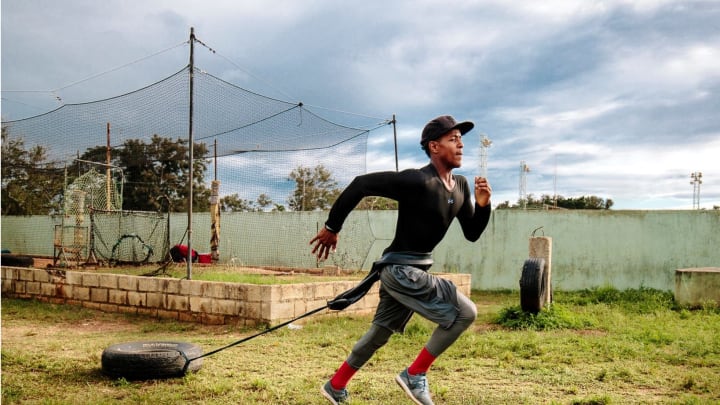 Photo by Jean Fruth/La Vida Baseball

NUESTRO COMPROMISO, OUR COMMITMENT
For Latinos, our shared pastime isn't America's game, but the Americas' game.

Today, the Latino presence across the baseball ecosystem is significant. Over a quarter of MLB players come from Latin America; another significant number with Latino ancestry are born in the U.S.

The vibrant role fans play in the game is crucial, too.

In Havana's La Esquina Caliente, fans gather daily to debate each other about their favorite stars and teams. In Mexico, hear mariachi bands and see fans sporting colorful lucha libre masks. In Puerto Rico, there are fewer horns and more percussion. The Dominicans prefer merengue and serve empanadas.

That spirit of community is something we capture at La Vida Baseball, from music to food to life off the field. We do much more than cite historical facts and numbers. We tell stories about the culture of Latinos and baseball with passion, style and spirit.

We're experimental more than encyclopedic. In the tradition of El Tiante or Johnny Cueto, we'll come at you from all angles in audio, video and articles that pair history with current culture. We talk about the players, their heroes, their journeys, their favorite food, music and entertainment and, always, their stories.

---

NUESTRO EQUIPO, OUR TEAM
---

"I celebrate my identity by staying in tune with the music, food, and culture of my family. It's times where I am able to eat, laugh, and enjoy the company of my loved ones that I am reminded most of who I am and who we are as a people."
---

"I celebrate my culture every day, living my life with the values my Dominican born parents instilled in me. I live with love and purpose, using my platform to continuously advocate for my community."
---

"I enjoy celebrating my Nicaraguan culture by eating and cooking Latinx food, listening to Reggaetón, spending time with family and of course, watching baseball."
---

"I celebrate my Latinx heritage by passing along the traditions and celebrations I grew up with, to my own child, and the next generation. "
---

"I celebrate my Latino identity by honoring my family and ancestors, never forgetting where we are from, working hard every day, and being an example of my heritage."
---

I celebrate my Latinx culture by staying true to the traditions and teachings that I grew up with, as well as trying to incorporate Latinx food, music, and culture into my life.
---

"Documenting the Latinx game in the United States and around the globe has been my passion for many years.  Latinx baseball is bigger than just the action on the field: it's culture, community, passion and inspiration. Telling the stories, showcasing the massive impact these players and countries have had in evolving baseball history, and preserving them for future generations, is truly an honor. " 
---

LA VIDA BASEBALL ROSTER
Senior Writers
Luis Rodriguez Mayoral
Roberto Salvador Klapisch
César Augusto Márquez
Nick Diunte
Efraín Ruiz Pantin
Armando Soldevila
Hiram Torraca
Charles Vascellaro
Contributors
Nicole Fernandez
Polo Ascencio
Pliego Villarreal
Ozzie Guillén Sr.
Oney Guillén
Jesse Castillo
Aime Rivas
Video content and strategy fueled by TeamWorks Media
Lauren Salituro
VP, Operations

Mike Sear
VP, Special Projects

Chris Weber
Senior Producer

Sean Magner
Associate Producer
NUESTROS COMPAÑEROS, OUR PARTNERS
La Vida Baseball is a new digital media platform that celebrates the passion of Latino baseball's past, present and future through original video, written and social content.

La Vida Baseball is a property of a TeamWorks Media.

TeamWorks Media is an award-winning content marketing firm known for emotionally engaging storytelling that inspires social impact through sports.