Quiénes Somos, About Us
Apr 6, 2021, 1:01 PM EDT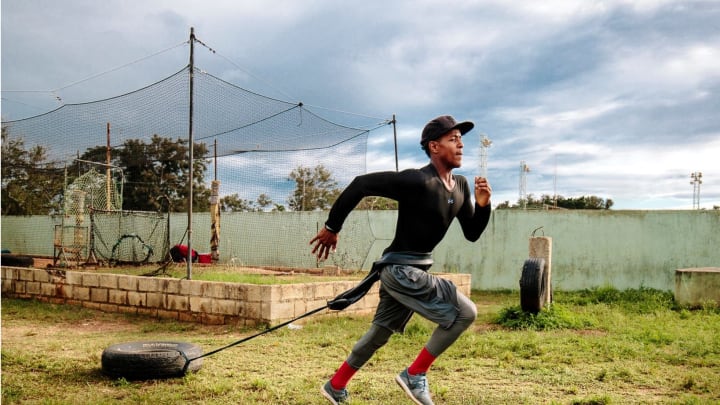 NUESTRO COMPROMISO, OUR COMMITMENT
For Latinos, our shared pastime isn't America's game, but the Americas' game.

Today, the Latino presence across the baseball ecosystem is significant. Over a quarter of MLB players come from Latin America; another significant number with Latino ancestry are born in the U.S.

The vibrant role fans play in the game is crucial, too.

In Havana's La Esquina Caliente, fans gather daily to debate each other about their favorite stars and teams. In Mexico, hear mariachi bands and see fans sporting colorful lucha libre masks. In Puerto Rico, there are fewer horns and more percussion. The Dominicans prefer merengue and serve empanadas.

That spirit of community is something we capture at La Vida Baseball, from music to food to life off the field. We do much more than cite historical facts and numbers. We tell stories about the culture of Latinos and baseball with passion, style and spirit.

We're experimental more than encyclopedic. In the tradition of El Tiante or Johnny Cueto, we'll come at you from all angles in audio, video and articles that pair history with current culture. We talk about the players, their heroes, their journeys, their favorite food, music and entertainment and, always, their stories.


NUESTRO EQUIPO, OUR TEAM
JESSE MENENDEZ
Managing Director of La Vida Baseball
He's not just La Vida Baseball's managing director; he's the #1 fan. Jesse's a creator, a strategist, and a storyteller above all else, devoted to the celebration of Latinx culture alive in baseball. He cut his teeth in radio, producing and hosting shows on WBEZ, Chicago's NPR station, and Vocalo, where he shared the diverse voices and narratives of Chicago. It's a mission he maintains today, fostering connections between athletes, amateurs, fans, families, historians, journalists and so many more.

"I celebrate my identity by staying in tune with the music, food, and culture of my family. It's times where I am able to eat, laugh, and enjoy the company of my loved ones that I am reminded most of who I am and who we are as a people."

JENNIFER MERCEDES
Host/Producer of LVB ¡Live! & Mas Que Un Juego
Jennifer bridges the gap between MLB players and fans with the heart of a storyteller. As a host/producer of La Vida Baseball ¡Live! and Mas Que Un Juego, she endeavors to shed light on those often-overlooked stories that speak to the Latinx experience in baseball and beyond. Her depth of journalistic experience with outlets such as ESPN, Azteca América, Telemundo, Dominican View, MundoFox, and as the creator of her own site, LaChicaDeportes.com, has afforded her insider status with players and clubs alike. It's a status matched only by her enthusiasm for the fervent fanbase whose stories of Latinx identity and baseball she is humbled to share.

"I celebrate my culture every day, living my life with the values my Dominican born parents instilled in me. I live with love and purpose, using my platform to continuously advocate for my community."

ALFONSO GARCIA
Social Media Manager
Alfonso Garcia is a passionate and dedicated social media professional who has a distinct admiration for baseball. He is a first-generation Nicaraguan-American who was born and raised in the Bay Area. Alfonso graduated from the University of San Francisco with a degree in communication studies and has been working in the social media and marketing industry ever since. He has previously worked for Donate Life as an ambassador for organ and tissue donation, which is a personal passion of his after receiving a lifesaving transplant in his teens. Alfonso spent five years working at the San Francisco Giants in the social media department, honing in on his content creating skills. He loves sharing his Latinx culture by being actively involved in the community and getting to know Latin American players and sharing their stories. 


"I enjoy celebrating my Nicaraguan culture by eating and cooking Latinx food, listening to Reggaetón, spending time with family and of course, watching baseball."

JULIE ALEXANDRIA
West Coast Contributor | Host/Producer of LVB ¡Live!
Julie's accomplishments in sports and entertainment media inform her reporting on a variety of issues surrounding baseball, such as social justice, racial equity, gender equality, and the business of sports. As a host/producer of La Vida Baseball ¡Live! and our resident West Coast contributor, she asks important questions to players and executives alike. An NYC native, she has covered teams from the Mets and Nationals to her now-hometown Padres, with stops at Fox Sports, MLB Productions and the Big Ten Network in between.

OZZIE GUILLÉN JR.
Host/Producer of Being Guillén & LVB ¡Live!
Born into baseball, Ozzie's passion for the sport is seemingly boundless, evidenced by the spirited opinions he eagerly shares as a host/producer of La Vida Baseball ¡Live! and Being Guillén. As the son of the legendary player and the first-ever Latino manager to win the World Series, Ozzie Guillén Sr., his home is the clubhouse and his heart is with baseball's players and fans. He has fulfilled a variety of roles with the Chicago White Sox, from team translator to Spanish-language color analyst, all with an eye towards the bond between the Latinx community and baseball.

"I celebrate my Latino identity by honoring my family and ancestors, never forgetting where we are from, working hard every day, and being an example of my heritage."

JEAN FRUTH
La Vida Baseball Traveling Photographer
Quite literally our eyes on the game, Jean has documented every aspect of baseball, from street games in the Caribbean to the National Baseball Hall of Fame induction ceremony, from Opening Day to the World Series. You can see her art across our platforms, infusing our stories, videos, and social posts with the energy she so distinctly captures. Her work also forms the backbone of the photographic essay book Grassroots Baseball: Where Legends Begin which shares the foundational memories of players from Hank Aaron to Vladimir Guerrero.

"I've learned that the game is so much more than just a sport – it is dreams and aspirations for so many youngsters wherever I go. The culture of baseball is so much bigger than just what happens on the field."

LA VIDA BASEBALL ROSTER
Senior Writers
Luis Rodriguez Mayoral
Roberto Salvador Klapisch
César Augusto Márquez
Nick Diunte
Efraín Ruiz Pantin
Armando Soldevila
Hiram Torraca
Charles Vascellaro
Contributors
Nicole Fernandez
Polo Ascencio
Pliego Villarreal
Ozzie Guillén Sr.
Oney Guillén
Jesse Castillo
Aime Rivas
Video content and strategy fueled by TeamWorks Media
Lauren Salituro
VP, Operations

Mike Sear
VP, Special Projects

Chris Weber
Senior Producer

Sean Magner
Associate Producer
NUESTROS COMPAÑEROS, OUR PARTNERS
La Vida Baseball is a new digital media platform that celebrates the passion of Latino baseball's past, present and future through original video, written and social content.

La Vida Baseball is a property of a TeamWorks Media.

TeamWorks Media is an award-winning content marketing firm known for emotionally engaging storytelling that inspires social impact through sports.