ABOUT LA VIDA BASEBALL
Sep 10 2020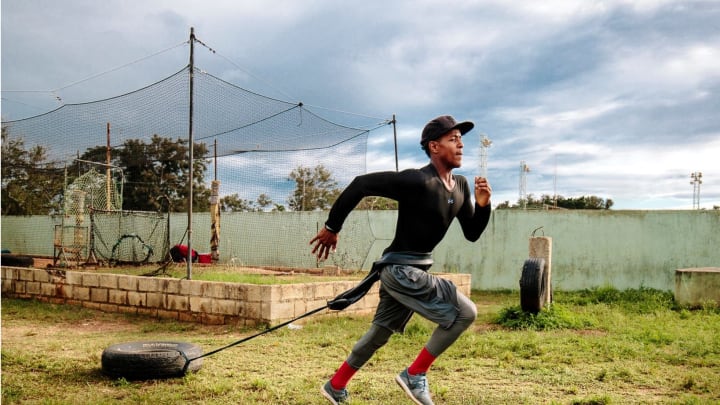 NUESTRO COMPROMISO, OUR COMMITMENT
For Latinos, our shared pastime wasn't America's game, but the Americas' game.

With Cubans as the "apostles of baseball" spreading the game throughout the Caribbean in the 1870s and 1880s, Latinos developed a unique story in U.S. baseball history. Unlike European immigrants, who came to embrace baseball as America's game as part of their assimilation, when Latinos — especially those from the Caribbean Basin – migrated, they came with baseball already in their blood.

Today, the Latino presence in baseball is significant. Over a quarter of MLB players come from Latin America; another significant number with Latino ancestry are born in the U.S.

But the vibrant role fans play in the game is crucial, too. Their spirit is seen in Havana's La Esquina Caliente, or Hot Corner, the city plaza where fans gather daily to debate each other about their favorite stars and teams. Or in Mexico, where you'll eat tacos al pastor, hear mariachi bands and see fans sporting colorful lucha libre masks.

In Puerto Rico, there are fewer horns and more percussion. The Dominicans prefer merengue and serve empanadas. Everything is spontaneous and seemingly disorganized, set to soaring riffs into the night.

The spirit of community is something we'll capture at La Vida, from music to food to life just off the field. We will do much more than cite historical facts and numbers. We will tell stories about the culture of Latinos and baseball with passion, style and spirit.

We won't swing for the fences or blow heat past our readers every time. Rather, in the tradition of El Tiante or Johnny Cueto, we'll come at you from all angles in audio, video and articles that pair history with current culture.

We'll be experimental more than encyclopedic. The four pillars on the banner across the home page sum up what you can expect from us: Who's Now, Who's Next, Legends and Our Life. Throughout, we'll talk about the players' heroes, their journeys, their favorite food, music and entertainment and, always, about their history.

Their stories.
NUESTRO EQUIPO, OUR TEAM
JENNIFER MERCEDES
Host of LVB ¡Live!
Jennifer Mercedes is host of La Vida Baseball Live, the daily 4-hour social media show. Prior to joining La Vida Baseball, she worked with a variety of media outlets such as ESPN, Azteca América, Telemundo, SuperCanal Caribe, Dominican View & MundoFox. She also is the executive producer, creator and host of La Chica Deportes, which airs nationwide via Dominican View and on LaChicaDeportes.com and Vegateve & SuperCanal Caribe in the Dominican Republic.

Jennifer was also a contributing reporter to El Mundo De Las Grandes Ligas which airs Sundays on ESPN Deportes Radio in New York. She holds a degree in TV and Media from Rutgers University. In 2012, Mercedes was voted as one of the Top 40 Rising Stars Under the age of 40 by the Hispanic Coalition of New York. In 2014 was selected as a "Lady Lincoln" by Lincoln Motor Company.

She also enjoys working with charitable organizations in the Dominican Republic and the United States, including Fundacion HHS, Educacion Calzada and the Boomstick23 Foundation.
JULIE ALEXANDRIA
West Coast Contributor, Co-Host of LVB ¡Live!
Julie Alexandria is an accomplished sports and entertainment host. She began her sports reporting career with Sports Net New York, (SNY) hosting the beloved and irreverent sports trivia game show "Beer Money". An offer from the network to host the magazine show "Mets Weekly" soon followed, which she helmed for two seasons. Pivoting into the entertainment realm, she became a VJ on MTV's daily countdown show "The Seven" live from Times Square.

She has since covered College Football for Fox, Sports Illustrated, and The Big Ten Network. Sideline reporting duties and numerous sports drink baths for the Washington Nationals and most recently, the San Diego Padres. Always a fan of MLB, she also hosted MLB Production's "MLB 162" for MLB Network, FOX and in-stadium programming.

Other credits include hosting the Miss USA Pageant, Red Bull Sports, The US Open (Tennis) for ESPN and Anchor of the daily syndicated entertainment show "OkTV". A seasoned voice-over artist, she can be heard on numerous TV and radio campaigns as well as video games and various animated series. She currently freelances with ESPN covering esports, as well as hosting "This is San Diego" a lifestyle show airing on CBS.
OZZIE GUILLÉN JR.
Host of The Ozzie Jr. Show, Co-Host of LVB ¡Live!
Ozzie officially started his career in MLB as the Team Translator for the 2004 Chicago White Sox. In 2006 he made his broadcasting debut on 670 The Score with a bilingual baseball show "Latino Baseball Chicago." He was the Baseball Color Analyst for the Chicago White Sox's Spanish Radio Broadcast from 2006-2011. In 2012, he graduated from MLB Scout School.

Ozzie is the co-founder of TCA Entertainment, a sports and entertainment business consultant firm. He has a degree in Sports Management from Colombia College and an MBA from Roosevelt University.
JESSE MENENDEZ
Managing Director of LVB ¡Live!
Jesse Menendez , was a host and executive producer with Chicago Public Media , Chicago's NPR News Station. He has spent the last several years covering the diverse sounds and voices within Chicago's robust arts and culture community. His coverage focused on music, culture, and politics while featuring critical discussion on social issues, community affairs, gender dynamics, and social movements. He focused on creating a forum where the news is filtered through a lens that is reflective of Chicago's diversity and one that amplifies the voices of those most affected by pressing issues. He also contributed as an occasional writer for NPR Music.
JEAN FRUTH
Traveling Photographer
Jean Fruth is a traveling sports photographer who documents baseball and its strong connection to local culture across America and around the globe. In addition to photographing Major League Baseball teams and the ballparks in which they are played, Jean documents key historical sites and defunct stadiums connected to the teams' cities. Calling ballparks "home" for the last 15 years, she has enjoyed the vast diversity of work that has come with her assignments.

With a strong passion for Latin American baseball, Jean's work has taken her into the heart of the Caribbean Basin, covering Winter League action and youth baseball in Cuba, Mexico, Puerto Rico and the Dominican Republic. She has also covered the Caribbean Series and spent time capturing the beauty of youth baseball in Curacao.

"There is always baseball being played somewhere in the world every month of the year. It is my pleasure and truly an honor to be documenting with my camera, and telling the stories through my photos," said Jean. "Capturing the action on the field is exhilarating, but there is so much more, including all of the people and places that are part of the hame's landscape, which provides a look inside the national pastime and its many cultural subjects."

Jean's spent countless hours beautifully capturing the essence of the game, with grassroots baseball holding a special place in her heart. She first fell in love with youth baseball while coaching her son Simon's Little League baseball teams in Healdsburg, CA. Documenting his game for posterity led to submissions of youth All-Star games to her local newspaper. From there, Jean covered the Giants and A's for the better part of a decade before turning her attention to the National Baseball Hall of Fame & Museum in Cooperstown, New York, where she helped to build the museum's profile and photo archive by contributing her work to the venerable institution over a three-year period. While shooting for the Hall of Fame, her year-round baseball calendar started with the Caribbean Series, moved to spring training, MLB's regular season and post season, then back to shooting grassroots baseball over the winter in Latin American countries.

Today, Jean continues to photograph the game she loves while working on publishing projects.
LA VIDA BASEBALL ROSTER
Senior Writers
Luis Rodriguez Mayoral
Roberto Salvador Klapisch
César Augusto Márquez
Nick Diunte
Efraín Ruiz Pantin
Armando Soldevila
Hiram Torraca
Charles Vascellaro
Contributors
José Alamillo
Ramona Arce
Polo Ascencio
Bijan C. Bayne
Pat Borzi
Catherine García
Manolo Lopez
Eric García McKinley
Sinhue Mendoza
Jorge López Vélez
Anthony Salazar
Carlos Torres
Danny Torre
Video content and strategy fueled by TeamWorks Media
Lauren Salituro
Supervising Producer

Mike Sear
Special Projects Editor

Chris Weber
Senior Producer

Sean Magner
Associate Producer
NUESTROS COMPAÑEROS, OUR PARTNERS
La Vida Baseball is a new digital media platform that celebrates the passion of Latino baseball's past, present and future through original video, written and social content.

La Vida Baseball is a property of a TeamWorks Media.

TeamWorks Media is an award-winning content marketing firm known for emotionally engaging storytelling that inspires social impact through sports.