Locker Room Talk: C.A.A. SPORTS/MLB AGENT and Co-Founder PitCCh In Foundation Amber Sabathia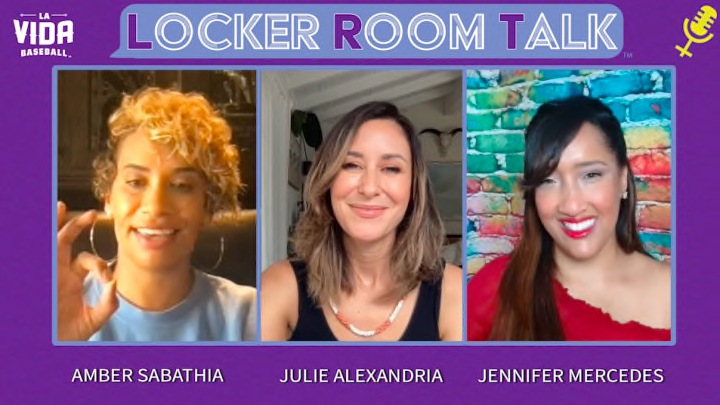 ---

Mom, wife, entrepreneur, philanthropist, producer, and now a certified baseball agent at C.A.A. Sports, Amber Sabathia chats with the women of Locker Room Talk about what it means to be a Black woman in baseball, what propelled her and her husband, CC Sabathia, to go public with his addiction problems, and more.

Choosing to become an agent was not about trying something new for Amber, it's a passion. She shares why she wants to continue her legacy in baseball as an agent. Amber and Locker Room Talk hosts Jennifer Mercedes and Julie Alexandria discuss how MLB has been struggling with the lack of African American players in the league. For Amber, however, she wants to address the issues head on. Just like when people pushed back on the idea of her becoming an agent, she became even more motivated to become the best agent she could be. 
Who is Amber's favorite baseball player of all-time? Her husband, CC, of course, but she admits it's because they grew up together, not because he's a World Series champion, 6-time MLB All-Star and Cy Young winner! She also tells the ladies what inspired her and CC to go public with his struggles with addiction, and how it wasn't only a therapeutic process for him, but for her as well. All of these conversations and more on Locker Room Talk – future episodes include Fox Sports Radio Host Joy Taylor and The Athletic Staff Writer Maria Torres.
---
---

Locker Room Talk is a weekly show highlighting the achievements of women and Latinas in sports. Hosted by Julie Alexandria and Jennifer Mercedes, two Latinas with more than 20 years of sports industry reporting experience, the show celebrates women in all aspects of the sports world by recognizing their contributions and the barriers they have overcome in their journeys. New episodes of Locker Room Talk debut every Wednesday on La Vida Baseball social channels.